Celebrate Summer with Music and a New Watch!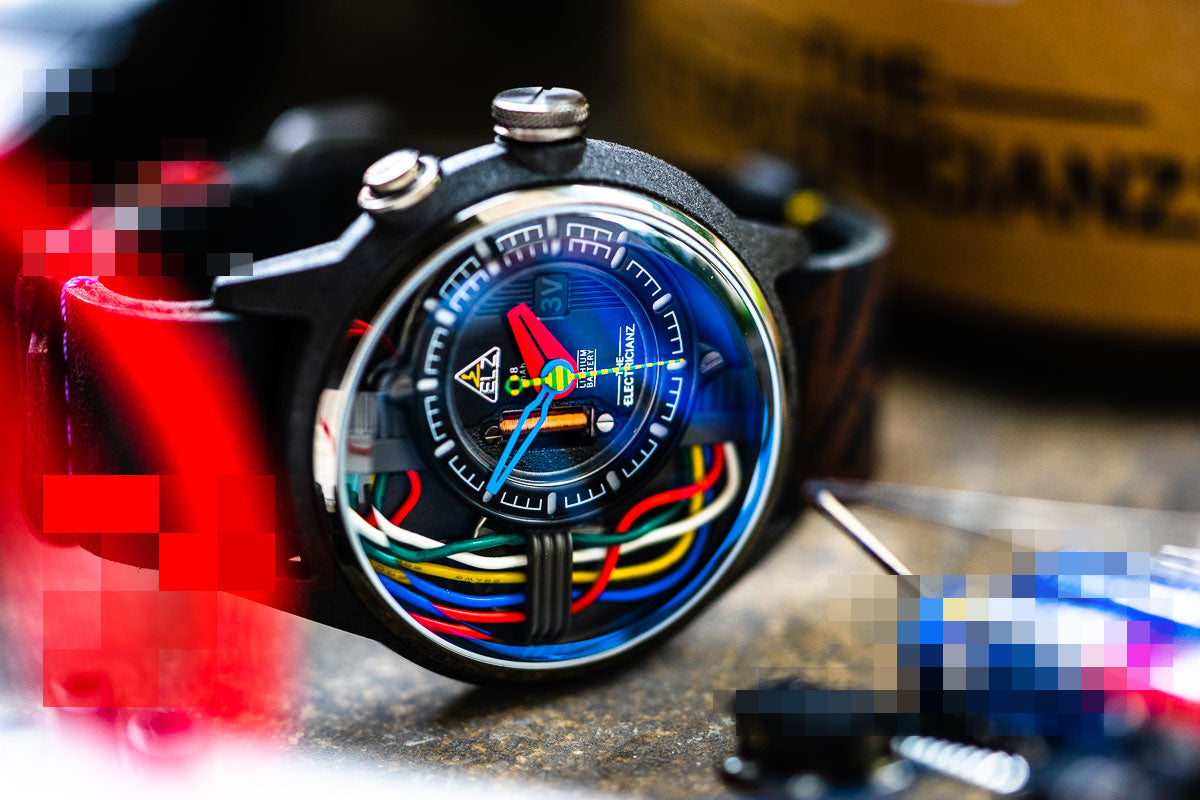 VoltLoverz of the world: rejoice!
Today, Summer starts and brings about two wonderful updates : our newest model, the Carbon Z, and the international Celebration of Music.

As you may know, many countries, including our home country Switzerland, organize round-the-clock music festivals to celebrate the #SummerSolstice. We join this festive spirit by bringing you 2 great playlists, especially curated for The Electricianz by RedMeansRecording and Cuckoo - Electric Art Creators we love. Find out more about them below!
1. New watch model: The Carbon Z
It's been a while since we last launched a watch - and you guys were getting pretty impatient on social media! We've heard you : the Carbon Z opens a new series of launches which will be unfolding over the next few months. 
The Cable Z has created a lot of positive feedback in the community, and we wanted to bring the classy looks from The Blackout (carbon made too) together with those colourful electric patch cables... we're sure this one will become quite a classic too!
The Carbon Z is a festive piece of colourful cables contained in a pitch-black carbon case, like fireworks in the night sky. This unique piece is our tribute to the Summer: let it begin today !
Check out the Carbon Z, now available on our webshop 🔥 
2. Music for the summer: meet Jeremy Blake
We absolutely love what Jeremy Blake does, and have been following his work for a few years : his experimental, hand-on approach to electronic music resonates with our core values, and you have to check his incredible synth performances electronic tunes. We announce with great pleasure our collaboration with #ElectricArt artist, Seattle-based, multi-instrumentalist Jeremy Blake Leaird-Koch, a.k.a Red Means Recording. 
In a nutshell, check his incredible work on the world wide web: Youtube, Bandcamp, Soundcloud, Website, Merchandise
Jeremy is working on a special music tune around our new model, the Carbon Z, but until then, he created a playlist to begin the summer with - the RMR/ELZ soundtrack. If you love electronic music, this is unmissable !
Track IDs and Jeremy's notes: 
Yung Gravy - Ms. Graystone (feat. Mia Gladstone). Yung Gravy is ridiculous in all the best ways. Flows and sample selections always on point, energy always wavy.
Anderson .Paak - Winners Circle. Anderson .Paak is one of those musical polymaths that can do everything, and do it well. I don't think he's written a bad song. His new album is incredible, and this track shows off his songwriting and rapping chops while daring you not to nod your head.
Big Black Delta - Money Rain Down. This and it's companion track (Side of the Road) from Big Black Delta's debut album got worn the hell out by me the summer I discovered them. Fuzzy off-kilter pop with some of the most fun music videos I've ever seen.
Louis Cole - Weird Part of The Night. Louis Cole is a treasure. When he's not playing with his band KNOWER he's pumping out this virtuosic funk and weird pop. He can play almost anything he puts his hands on. This track has a music video worth watching.
The Knocks - New York Narcotic. A perfect slice of electronic pop from the New York duo. Remember these guys remixing stuff back in the day but hadn't checked out their full albums until recently. Glad I did.
De Staat - Sweatshop. I want more people to get into De Staat here in the US so they come to tour here. Amazing band, but they only tour Europe. Please, De Staat. Come to Seattle. If you like this track I definitely recommend you check out their music videos. Every single one is super clever in some way.
Small Black - Personal Best. I love everything Small Black does. Amazing use of distortion and reverb. This track particularly got me through some tough times.
Superhumanoids - March of the Pigs. Yes, this is a Nine Inch Nails cover. No, it's not what you expect. Yes, everything the Supermumanoids does is this good.
3. More music for you with Cuckoo's playlist!
You have met our dear friend Cuckoo in our ElectricArt review last April review.
He has been very active the past weeks, playing amazing gigs (check out Cuckoo's Youtube page), and we asked him if he still could spend some time sharing a few summer inspirations... We're glad to broadcast it to you today: Cuckoo created for us a very musically rich and upbeat playlist, we're sure you will love it !
---